Ultrasound face treatment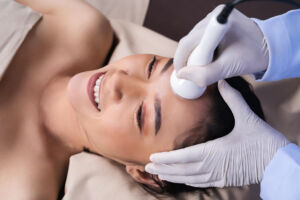 The advantage of ultrasound treatment is that the ultrasound also reaches the deeper layers of the skin, where the active ingredients used in the treatment, fat-soluble vitamins and fats important for the skin can enter.
Cosmetic ultrasound is one of the most widely used methods of drug delivery in the 21st century. With its use, the metabolic processes in the skin are increased, thereby increasing the supply of oxygen to the cells. Thanks to its positive effect on connective tissue fibers, the skin will be firmer and more elastic.
Ultrasound face treatment process
It has a beneficial effect on mature skin and slows down the formation of wrinkles. Moisture in the skin can be replenished with cosmetics to keep the skin fresh and fresh again.
Mechanism of action of ultrasound face treatment:
An ultrasound device used in cosmetics delivers sound waves to the skin through a medium. This medium is most often an oil or emulsion. The treatment gives a visible result even after a while, but when applied as a cure, the best efficiency can be achieved.
In my cosmetics, this treatment is also done with professional Gigi products. In addition to the intake of the ultrasound active ingredient, the treatment also includes a nourishing massage and a wrap suitable for the skin type.
Duration: approx. 60 min